Scheduling meetings manually takes a lot of work.
Aside from preparing your agenda, you'll need to:
Coordinate on availability
Manage time zones
Send reminders and follow-ups to avoid no-shows
This tedious process results in many back-and-forth emails, tedious administrative work, and, frankly, wasted time.
Appointment scheduling tools streamline your scheduling process so you can focus on your business.
How? Scheduling sofwares allows you to make self-booking pages that you can share with others. Meeting participants can then pick their preferred time from your available slots without extensive coordination.
Simply make a booking page and use its shareable link to invite people to book a time with you. You can also embed your appointment calendar on your business website and social channels.
Today, we'll go through five of the best FREE meeting scheduling software that automatically syncs your appointments with Google Calendar:
Koalendar
Calendly
Schedule Once
Appointlet
Picktime
This way, you can streamline your scheduling process and be in full control of your time without breaking the bank.
Let's get started.
1. Koalendar
Best Free Features:
Easy to use and set up
Unlimited 1:1 and group appointments for free
Automatic reminders
Looks great on any device
Google Chrome extension
Google Calendar and Google Meet integration
Live customer support
Koalendar is a free scheduling platform that lets you make sleek and intuitive self-booking pages in a matter of minutes. Even with a free account, you can book unlimited 1:1 appointments, adjust its durations, and create unlimited booking pages.
It's effortless to use so your clients and prospects can book appointments even if they're not tech-savvy.
The booking software automatically updates your availability despite schedule changes so you can avoid double bookings. This is perfect if you're a teacher managing parent-teacher conferences or a recruiter managing hundreds of interviews.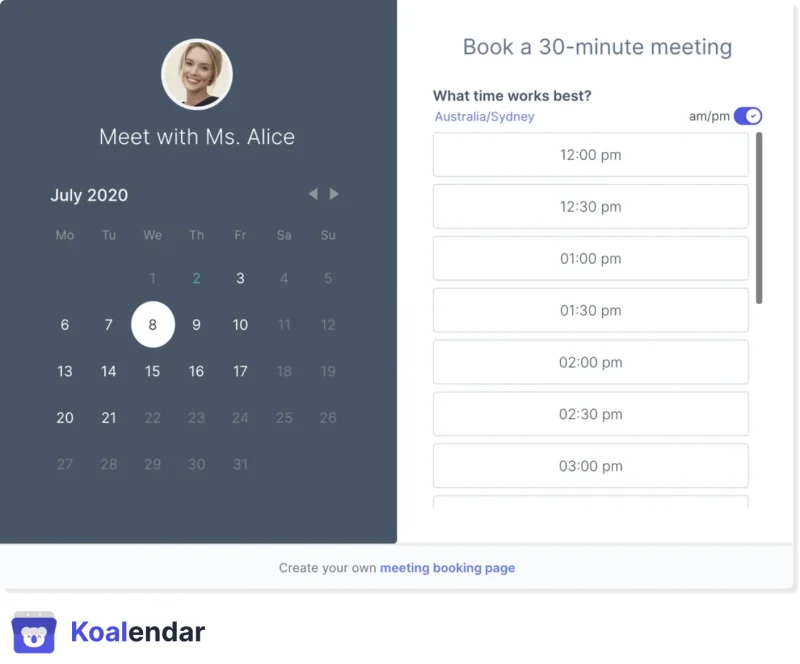 Eliminate the back and forth of meeting scheduling with Koalendar.
No-shows and last-minute cancellations are harmful to many businesses such as salons and health and fitness professionals. With Koalendar, you and your meeting correspondents will receive automated reminders, so you'll all be on top of your schedules.
Koalendar allows you to expand your business globally. It automatically adjusts its time zone according to the user, and it supports multiple languages.
Seamlessly integrate it into your workflow using easy embed options to your website and social channels and integrations with calendar and video applications. Add your calendar to your website and social media and connect it to Google Calendar, and Google Meet for free.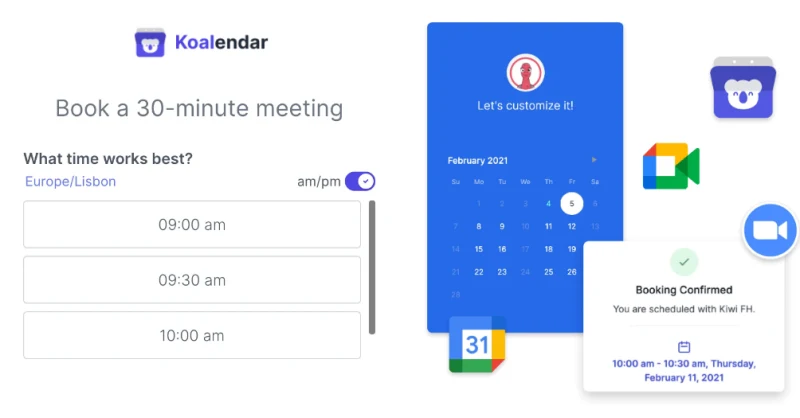 Koalendar integrates with Google Calendar, Google Meet, and Zoom.
Koalendar works well and looks good on all devices. It also has a Google Chrome extension, so you can quickly access it when you work.
To help you make sure your business always runs smoothly, you'll receive live support with a real person even if you're using a free account if you encounter any issue.
A paid subscription to Koalendar grants you customizable pre-booking forms, group meetings, Zoom integration, along with customization options for the look of your booking pages, among other things.
Try Koalendar for free and tell us what you think!
2. Calendly
Best Free Features:
Easy for meeting prospects to use
Calendar and video integrations
Automatic reminders
Personalized calendar link
Looks great on any device
Google Chrome extension
Calendly is a powerful scheduling software that lets you work with clients all over the world. A caveat, however, is that its free version has minimal capabilities.
Setting it up requires a bit of a learning curve, but it's easy to use for clients and meeting prospects. It automatically adjusts according to the user's time zone and supports many languages.
A free subscription gives you a personalized link to your calendar that you can embed on your emails and public channels. You'll also receive automated meeting reminders so you can avoid no-shows.
Calendly allows you to integrate your booking page with Google Calendar, Office 365, Outlook, and iCloud for free. You can also use it with video apps such as Zoom, Microsoft Teams, and GoToMeet.
Source: calendly.com
Calendly has an iOS app for easy calendar access, an Android app, and a Google Chrome extension.
While these are great, Calendly's free forever subscription is also quite limiting. If you're strictly looking into maximizing free tools, it's best to consider other alternatives.
The free version only lets you create one calendar per user and one event type. This means that all your appointments will have to have the same parameters, duration, and location. It also limits your appointments to one-on-ones. You'll need a paid subscription if you want to have group events such as tours, webinars, classes, etc.
Other features you'll get with Calendly's paid subscription are integrations with Zapier, Salesforce, Hubspot, Mailchimp, Stripe, Paypal, Google Analytics, and others with customizable webhooks. You'll also enjoy customization, pooled team scheduling, metrics, and reporting, etc.
Finally, Customer service for free users is limited to their help center and email support. A paid subscription, however, will give you access to live chat.
3. Schedule Once
Best Free Features:
Unlimited meetings and event types
Multiple calendar integrations
Video integrations
Automatic reminders
Google Chrome extension
Schedule Once is a robust appointment scheduling tool that lets you book unlimited meetings and event types for free.
It's also rich in calendar integrations: you can use it with G Suite, Office 365, Exchange, Outlook, and iCloud. As for video integrations, the platform lets you create automatic and secure links to video conference rooms for Zoom, Microsoft Teams, Webex, and Google Meet.
Like other applications in this list, Schedule Once adjusts according to your user's time zone, accommodates multiple languages, and sets automatic reminders for your appointments.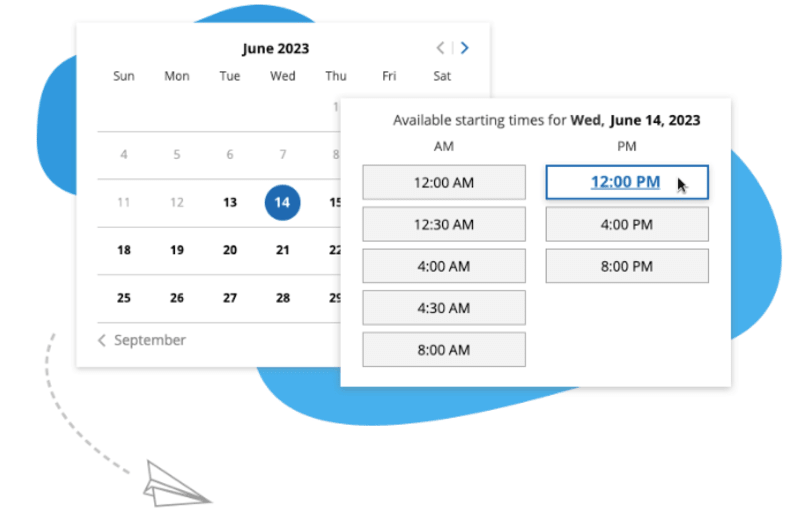 Source: oncehub.com/scheduleonce
Embed your calendar to your webpage and social channels. It works well on mobile, tablet, and mobile. It has a Google Chrome extension, too.
While its booking page is easy to use, it can be tricky to set up. Its user interface is relatively complex and will need time investment. If you prefer straightforward apps that you can set up in minutes, it'll be good to consider other alternatives.
A paid subscription to Schedule Once allows you to take advantage of more integrations to handle payments, CRM, and others, with the scheduling tool. Team functionalities are also available here. Schedule Once can pool your team's availability, automatically assign the right person to the requested meeting, and distribute work equally.
This feature is helpful if you're running a hair or nail salon where each service offering may differ in terms of skill requirements.
Schedule Once has a knowledge base that you can use if you're a free user in case you encounter issues. A paid subscription will give you access to email and live chat support.
4. Appointlet
Best Free Features:
Two-way Google Calendar integration
Unlimited appointments and meeting types
Personalized calendar link
Calendar and video integrations
Google Chrome extension
Unlimited pre-booking form fields
Team management
Appointlet is a Gooogle Calendar scheduling tool that offers two-way sync. This feature lets you modify your Google Calendar using Appointlet or do it the other way around: add appointments in Appointlet through Google Calendar.
For free, Appointment lets you book unlimited appointments and unlimited meeting types with flexible durations. It also gives you a personalized link for free so that it's easy to type and remember for your clients.
Its interface is easy to use. Some just find the aesthetic to look a bit dated. Automatic reminders for Appointlet, however, comes with a paid subscription, unlike many of its alternatives.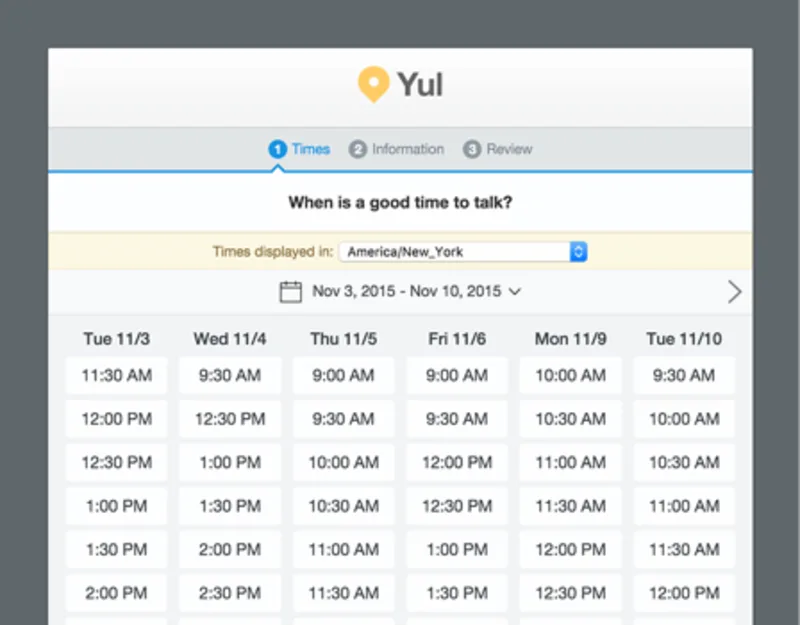 Source: appointlet.com
It adjusts to time zones and supports multiple languages, so you won't have to manually compute for time differences if you have meetings with people overseas.
As for integrations, Appointlet syncs Office 365, aside from Google Calendar. It also works with video platforms Go2Meeting, Zoom, Join.me, and Webex.
Team management with limited functionality is also part of the free version of Appointly. Sync your staff's calendars in the application so you can configure them from one portal.
Finally, the application is optimized on all devices and has a Google Chrome extension for easy access.
The paid version of Appointly grants you customizable branding options, automated meeting reminders, customizable booking confirmations, and the ability to pool your team's availability. You'll also get to integrate your calendar with Stripe (for payments), Zapier (for no-code automation), or build your integrations with webhooks.
Customer support for free subscribers is limited to the knowledge base, email, and intercom chat support. A paid account will grant you priority support and onboarding for 5+ members.
5. Picktime
Best Free Features:
Two-way Google Calendar integration
Unlimited appointments and meeting types
Recurring appointments
Calendar and video integrations
Google Chrome extension
Team management
The last calendar tool we'll discuss is Picktime: a robust and free appointment scheduling software with no paid version. It supports different time zones and multiple languages, too, so you can use it for your global business.
Like Appointlet, it offers a two-way Google Calendar sync. This means you can move meetings around through the application or your calendar, and the changes reflect in both platforms.
Book and receive unlimited bookings and different meeting types --multiple durations and individual or group classes. Once meetings are confirmed, you'll receive notifications and automatic reminders. Picktime also lets you create recurring appointments and manage staff schedules for free.
Picktime's interface is clean and professional. Your customers quickly pick it up even if they're not tech-savvy. Setting it up will require a bit of a learning curve, though. But customer service is excellent so you'll have all the help you need.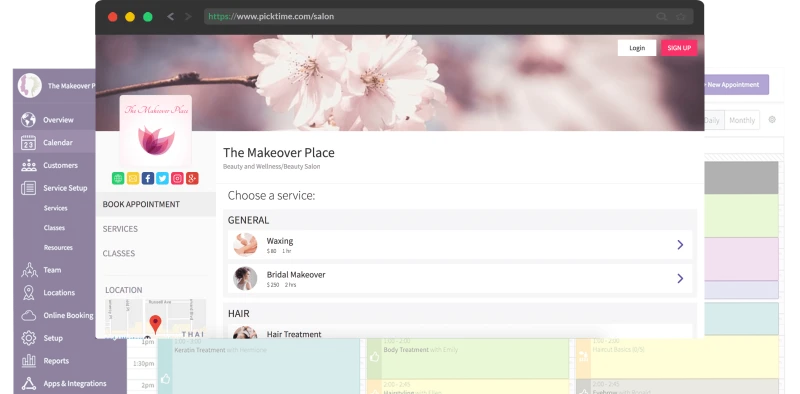 Source: picktime.com
As for integrations, Picktime lets you work with video platforms like Zoom and Google Meet. It also connects to Mailchimp, Stripe (for payments), and more.
Customization is where the application falls short. You can change your main photos, but colors and others will stay the same. This isn't so bad, but if you're looking for ways to make your booking page reflect your brand more, other applications mentioned in this list offer that service on paid subscriptions.
Conclusion: What's the best free scheduling software for Google Calendar?
As you've seen, you'll find many strong appointment scheduling apps in the market for any price range, each with its strengths. It's good to pay for your subscriptions, but there's also nothing wrong with making the most of free tools.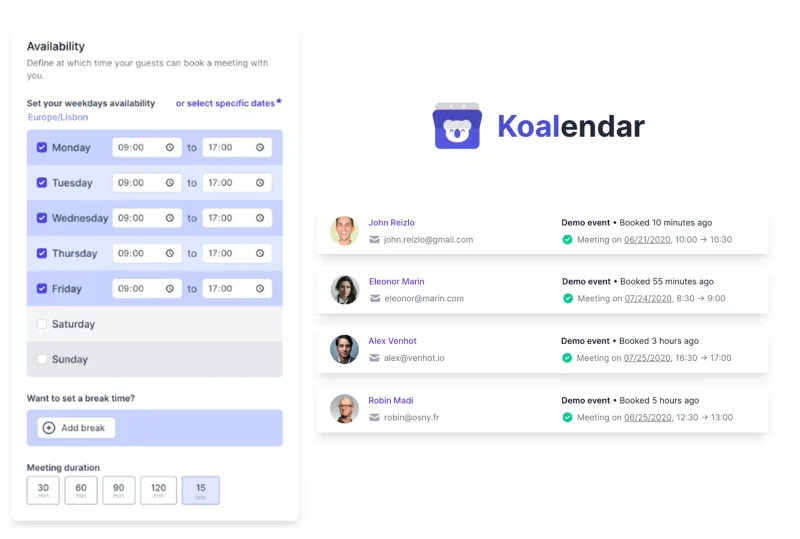 If you're looking for an appointment scheduling software that:
Takes minutes to set up
Easy to use
Looks good on all devices
Lets you book unlimited appointments and create unlimited booking pages
Connects with unlimited calendars
Provides live customer service
All for free, then Koalendar is your best bet.
We're naturally a bit biased here, but don't take our word for it.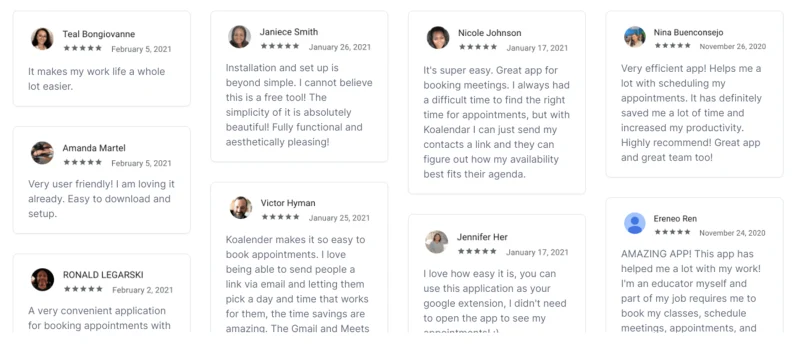 We have a 4.9 out of 5 rating and 450+ reviews on the Google Workspace marketplace from teachers and business owners enjoying our service.
Check out what people are saying about us, or try Koalendar for free yourself.