Your sales team is the lifeblood of your company. But behind the hefty commission schemes and lucrative incentive trips are quotas and people to meet, rejections to face, and hurdles to overcome. Competition is fierce, and pressure is high.
In this guide, we'll go over five action plans you can take to improve your sales team's performance and help them navigate industry changes, rejection, impossible workload, and customer expectations.
This way, you can lessen turnover and ensure constant growth for your sales team and your business.
#1 Upgrade Your Team's Belief In Your Products And Services
The way your team sees your products will directly translate to how they communicate with your prospects. If you want a high-performing sales team, start developing** their **confidence in your products and services first.
Take the time to share your company's vision and mission when you onboard new team members. Be clear about what makes you different and how you work to be of service.
Regularly, share about the successes you've helped your customers achieve. This practice is a concrete way to show how much impact your products and services can make.
Allowing your team to find purpose in their work can potentially increase their desire to perform to the best of their abilities.
#2 Balance Goals With Actionable Objectives
Big goals are great. Done right, they can promote innovation and growth.
But to maximize its effects, it's essential to complement them with actionable steps, sustainable habits, and measurable objectives. Apart from identifying quotas, work with your team to make weekly (or even daily) goals.
For example: Let's say your sales team tends to close** **one sale for every ten client presentations (1:10 conversion rate), and their quota is to sell five units a month. This conversion rate indicates that they'll need to do a minimum of fifty presentations a month or ten presentations a week.
Instead of simply telling them how many they'd have to sell, encourage your team to have weekly presentation goals.
Teaching them to dream big and focus small will help them develop discipline, consistency, and skills from deliberate practice. Aside from meeting their monthly quota, these factors will help them sustain their success even in the long run.
#3 Use Organizational Tools And Systems
Sales teams need to keep track of many things: meeting schedules, networking events, customer information, product updates, client birthdays, etc. With all the information they have to juggle, it's impossible to focus without the right tools and workflow.
To stay on top of discovery sessions and sales presentations, use a meeting scheduling software made for sales teams like Koalendar.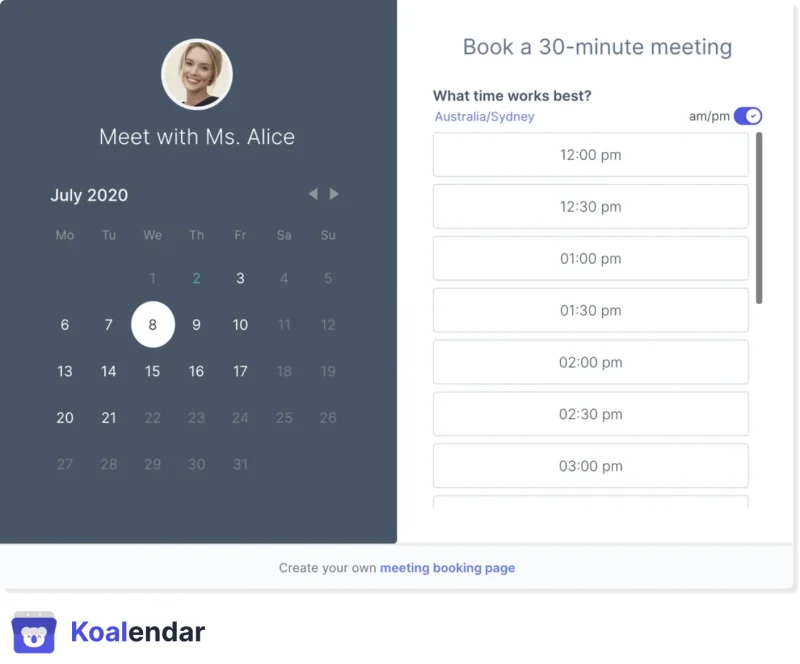 Eliminate the back and forth of meeting scheduling with Koalendar.
Koalendar is an appointment scheduling software that streamlines the client scheduling process. It allows sales teams to create unlimited booking pages that they can share with their prospects. Through this interface, prospects can book appointments without back-and-forth messaging.
The software also sets automatic reminders and syncs appointments in Google Calendar. This way, no-shows are decreased, and your team can seamlessly manage their schedules.
Having the right tools and systems in place can help your team do better work because they're confident that everything's in order and nothing will fall through the cracks.
#4 Be Responsive
With today's ease of communication, companies' accessibility isn't just appreciated. It's expected.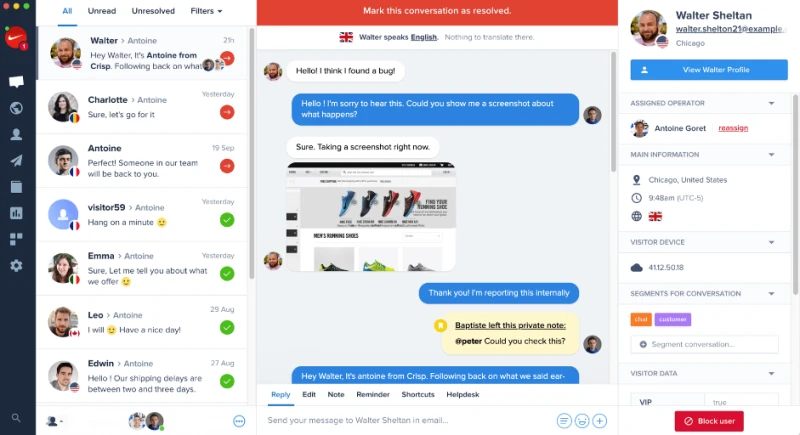 Source: Crisp Multichannel Messaging Platform
78% of interested buyers have backed out from a purchase because of a bad experience with customer service. Alternatively, 89% of those who get good experiences aren't just likely to transact. They're even more open to making more purchases in the future.
Equip your sales teams with ways to communicate with interested leads and customers through multi-channel messaging platforms like Crisp Chat.
Being responsive to interested buyers isn't just a great way to build trust. It's also a means to deepen your team's understanding of the people they work with.
#5 Create A Healthy Team Culture
Sales can be a stressful job. Some days will end with ecstatic wins—others, with crushing disappointment.
Regardless of how days turn out, your team needs to have a safe space where they can feel welcome, heard, appreciated, and understood. Build an environment where people celebrate each other and respect one another. Encourage peer-to-peer coaching and a healthy exchange of knowledge and constructive feedback.
Start conversations about the industry that your servicing to promote critical thinking. Developing your team's business acumen won't just make them more credible. It'll increase their confidence in relating to their clients as well.
A good team culture promotes work ethic, excellence, growth, and resilience. You can achieve a lot of things if you're all committed to winning together.
Final Words
Success in sales can open doors to many opportunities, not just for the company but also for the salespeople themselves.
To help your sales team improve their performance, start with their belief supported by actionable goals. Complement these with a healthy environment and tools they'll need to manage their workload and delight their customers.
Help them become better people and professionals from the inside and out. Before you know it, you'll be well on your way to an upward trajectory of success.